White-beaked Dolphin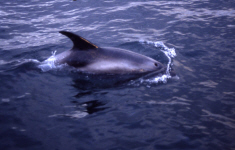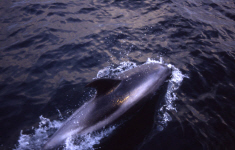 White-beaked Dolphin c. 2.5-3m
The White-beaked dolphin has a very short white or grey beak, a proportionately large, curved dorsal fin and grey/white streaks along the the flanks and back. It is usually seen in groups and is very active, frequently leaping and bow riding. It is the most common dolphin in the North Sea .
---
Please email robin@dolphinspotter.co.uk with any sightings.
Tell us simply WHAT you saw, WHERE it was and WHEN you saw it!
---
WHAT - If you are CERTAIN about your identification, it helps if you say so. If not was it PROBABLY, or POSSIBLY a certain species?
WHERE - Were you on land or a boat? If possible give us Lat and Long, a Grid Reference or the name of the place e.g. Flamborough Head.
WHEN - The date and time is all we need. If you don't have an exact time, just give your best estimate.
If all you are sure of is that you saw something with a fin please still email us to let us know! We'll be quite happy with an identification of " I saw some sort of porpoise or dolphin near Spurn Point. It was about 2:30 on 20.8.04!"
If you can tell us about wind force, direction, sea state, cloud cover etc. it is very useful but the WHAT, WHERE and WHEN is the most important!
---
---
Dolphinicity Surveys, 68 Plantation Drive, North Ferriby, East Yorkshire. HU14 3BB. ENGLAND
Mobile: 07768 592306 Fax: 01482 645789
robin@dolphinspotter.co.uk