---
Dolphin Gallery
---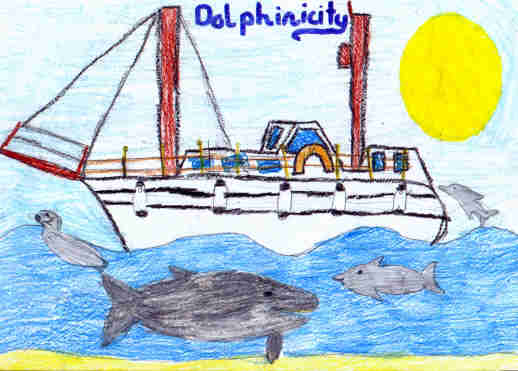 This wonderful picture of Dolphinicity, surrounded by dolphins and seals, was created by Daisy MacDonald (Age 11).
---
Would you like to see your dolphin picture in DolphinFacts?
If so, email a copy to robin@dolphinfacts.co.uk and you may be lucky!
Your picture must be in jpg or gif format, ask your parent or teacher if you don't know how.
Don't forget to tell us your name and age.
---
Return to DolphinFacts Contents Page.
---
DolphinFacts is a free service provided by Dolphinspotter a non-profit organisation dedicated to the study and protection of wild dolphins and the marine environment.
Dolphinspotter, 68 Plantation Drive, North Ferriby, East Yorkshire. HU14 3BB. ENGLAND
Mobile: 07768 592306
robin@dolphinspotter.co.uk