What is Echolocation?
Dolphins can use echolocation to help them find food or find their way from place to place. They make special clicking sounds. Scientists think the sounds can be aimed by the bulge at the front of the head which is called the melon. The clicks bounce back off any object in their path. Dolphins can tell the size, shape and direction fish are travelling in. This is very important in dark, murky seas when dolphins cannot see their prey. It means they can catch fish in total darkness.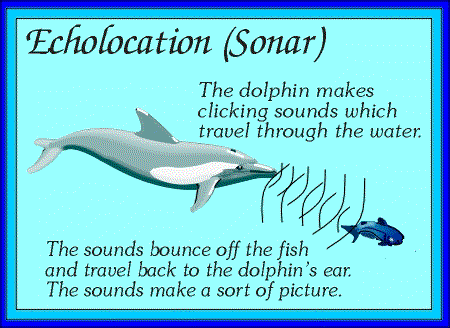 Robin Petch and Kris Simpson, Dolphinspotter
---
Return to DolphinFacts Contents Page.
---
DolphinFacts is a service provided by Dolphinspotter.co.uk, non-profit organisation dedicated to the study and protection of wild dolphins and the marine environment.
Dolphinspotter, 68 Plantation Drive, North Ferriby, East Yorkshire. HU14 3BB. ENGLAND
Mobile: 07768 592306
robin@dolphinspotter.co.uk